Always Maxi for $0.97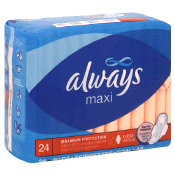 From September 3rd till Sept 9th at the No Frills (ON) if you have the 'Save $2 when you buy one Always Ultra or Maxi (24-48 ct.)' coupon from brandsaver.ca then you can buy the Always Maxi for only $0.97! Normally we don't really put these kind of local deals on our website, but we thought that this one was really worth it.
So for our users in Ontario if you're located close to a No Frills, just print the coupon then enjoy this good offer. There is probably a limited number per client but unfortunately I wasn't able to find it. And just make sure you pick the ones as in our picture because the ones of the picture on brandsaver.ca are not the ones on sale.