Amtrak Cascades 25% Off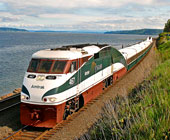 Amtrak is having a sale at the moment for 25% off on any trip on the Amtrak Cascades route to or from Vancouver. With their fares being already low, this make it even cheaper to use the train for your next trip to the US. The Amtrak Cascades route includes the following stops in the US: Seattle (WA), Tacoma (WA), Portland (OR), Salem (OR) and Eugene (OR). This is a really restrictive itinerary, but if you're living in the area and you were thinking about going to the US during September, then it's the right time to have a look at Amtrak website.
Also, take note that you need to book your trip by September 27th and you need to travel before September 30th. You also need to book three days in advance and there are a few other limitations for this deal which make it more restrictive (for more information have a look to the link below). To get the 25% off no discount code is needed, just click on the following link and book your train ticket online.
Book your trip on the Amtrak Cascades route
For more information on the 25% off Amtrak Cascades route offer