Emily Press Labels Coupon Code

Emilypress.com is one of the cutest and may I say better designed websites out there. This small online store sell kids labels (including waterproof kids labels), clothing labels (especially useful for camp school labels) and best of all personalized labels all from their online store Emily Press Labels. You know what, what I like best is not that they are Canadian it is that they are Canadian and probably one of the best label sites I have ever seen; go Canada! (Based in Vancouver, which is why they probably got the idea to make waterproof labels)
Anyway without further ado this label site has a new coupon code for customers to get a nice 15% discount on all products until the start of next month. And check out some examples of the cool labels you can get in the image below.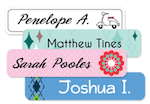 Here is why they say about themselves; "Emily Press Labels provides stylish and durable labels for kids and grown-ups alike with trendy color palettes, playful characters and fashionable designs. Choose from Popular name labels size for water bottles and lunch containers and Large labels for backpacks and sports equipment labels. Slim labels make great baby labels for sippy cups going to daycare. Emily Press Labels includes clothing labels for camp and school. Iron-on labels stay on wash after wash when iron on fabric clothing and our Tag-a-Tag clothing labels are laundry safe and stick to the care or brand tag on clothing. For best value for labels for camp are our Camp Labels Pack and for labels for school, our School Labels Packs – both provide all the labels you'll need to label all their stuff for camp and school. Great fundraiser ideas for camp and school is an Emily Press Labels fundraiser for labels. " source
"Emily Press Labels" get 2 thumbs up from vouchercodes.ca. It would be great if someone could review the store.