EverythingEco Coupon Code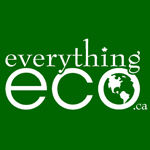 EverythingEco.ca is an online Canadian store offering uncommon and earth friendly gifts. Check out www.everythingeco.ca for jewelry, handbags, reusable bags, bike clocks, pet toys made from recycled pop bottles and soap in the shape of animals. EverythingEco.ca has gifts for fashionistas, men, kids and pets. All gifts are sweatshop-free. Many products are handcrafted by Canadian companies and some gifts are made from repurposed materials. Their bestselling gifts include scrabble tile necklaces, juice box coin purses and crayon soap.
Free shipping offers are available for Canada and the United States. And best of all they have sent us an exclusive discount code for customers to get 20% off absolutely everything at their online store, therefore we give them the voucher codes seal of approval, 20% is amazing, well done and thank you, your store is fantastic. Comments on this store are welcome.