Glade Printable Coupon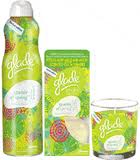 Want your house smelling nice, good. Because the household name in fragrance; Glade has a new printable coupon for Canadians to use. The coupon can be redeemed in stores to get a free product with a Glade purchase (a BOGOF promotion). Only valid on their Spring collection (see the image for the type of products on offer).
Customers have until July 31st 2011 to use the coupon, as this is when it expires. The product can be any item from the collection at equal value or less.
Print the BOGOF Glade coupon
~ The coupon or offer is no longer valid, please use the search feature at the top of this page to find new offers
Here are the T&C's on the coupon: "To the dealer: Free product must be of equal of lesser value. Upon presentation of this coupon by our Customer toward the purchase of the specific product, S. C. Johnson and Son, Limited will reimburse your resale value of free merchandise outlined on the coupon, plus regular handling fee provided you accept it from your Customer on purchase of item specified. If no retail value is claimed on the coupon, an average retail selling price will be used. Other applications may constitute fraud. Failure to send in, on request, evidence that sufficient stock was purchased in previous 90 days to cover coupons presented, will void coupons. Coupons submitted become our property. All taxes (if applicable) must be paid by the consumer. Reimbursement will be made only to retail distributor who redeemed coupon. For redemption, mail to: S. C. Johnson and Son, Limited, Box 3000, Saint John, N.B. E2L4L3. Expires: July 31, 2011. Limit one coupon per purchase. One redemption per customer. Coupons/Offers not valid in conjunction with other offers, promotions or discounts. Coupon valid in Canada only. Valid on: Any Glade® Spring Collection product. ®/TM S. C. Johnson & Son, Inc. Used Under License and IMPORTED BY S. C. JOHNSON AND SON, LIMITED, BRANTFORD ON, Canada N3T 5R1."