Kathyandkimoriginals.com Coupon Code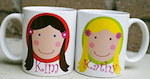 Kathy & Kim Originals is an award winning online Canadian store selling personalized stuff from jewellery to mugs, cups, t-shirts, and bags. You can change the names or characters on the products to look like or have the name of the person they are for.
And for a limited time only customers can get 20% all purchases at kathy and kim originals.