MyHosting Promo Code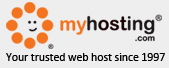 MyHosting.com is a worldwide leader as a provider of affordable, superior and reliable hosting services. These guys have more then 50 000 web hosting customers in over 170 nations and they are still growing. All that thanks to their demonstration of great value in terms of quality vs prices. MyHosting.com was established in 1997, growing fast thanks to the best available technologies and services. They keep their clientèle by maintaining a strong web presence and great information systems.
At MyHosting, you get three choices of web hosting plans: Basic Hosting, Premium Hosting and Professional Hosting. The Premium one is the most popular and is considered to have the best value. With all these plans you will get unlimited hosting space, file transfer ans domain hosting. You also get a free domain name and Outlook Email. Their plans start at $4.84 and will obviously get more expensive as you will require more features. Have a look at the many "Promo Codes" available below and choose the one that corresponds the best to your needs.