Hot Hot Sale at Forever21 Canada; Save up to 80%

Forever 21 is currently having another summer sale with discounts that go from 50% to 80% off regular prices. We wanted to let you know about it because the items available in this offer are different from the ones that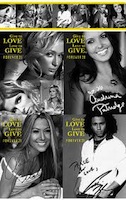 were available in the previous sale.
Shop the 80% off sale at Forever 21 Canada
Have you ever heard about the 'Give to Love Love to Give' collection from Forever21? All the proceeds from the sale of items that are part of this collection go to a designated charity. Isn't that cool? So far it has donated $9.5M in money and merchandise.
They are also supporting a bunch of others charities such as Big Brother Big Sister and The American Red Cross.