Tria Beauty 50% Off Discount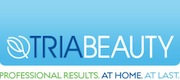 Just like clothing stores are currently having their summer sales, health and beauty stores are also doing the same. Right now you could save 50% on select Tria skincare products. Tria doesn't run sales like this really often, so it surely is a good time to grab some efficient skincare treatments for cheap. The prices on Tria's website reflect the 50% off discount, no need to use any promo code to activate the offer.
Tria Beauty specializes in skin-care treatments that can be used at home. Find at triabeauty.com laser hair removal device, blue light skin perfecting treatment and advanced skincare products. When using this kind of laser and blue light systems, make sure you read properly the instructions and follow the security rules. These need to be used carefully. I have just read a few reviews on the web and the Tria laser hair removal device really seems to be working. I'm seriously considering giving it a try. Let us know if you've been using one for a while and what do you think about the results?